How to age a bottle of wine
How to age a bottle of wine
I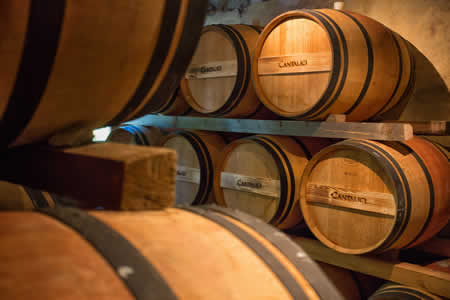 t often happens, that during the tasting our customers ask us: "How long can I keep this bottle of wine?" The answer depends a lot on the type of wine and above all on the way it will be stored.
That's why we decided to give you some useful information on how to keep the bottles purchased, so that you can drink them, even after years, and rediscover quality and aromas as at your first taste. Now let's try to understand how to age a bottle of wine well. We keep in mind at least 5 important points.
1 - Where to store the bottles
The place where the bottles are kept is essential for its conservation and aging. The wine doesn't like natural or artificial light because, over time, oxidative phenomena could be triggered and would damage it.
2 - The right temperature to keep a wine well
The temperature of the environment where the bottles are stored must be as constant and fresh as possible, (ideal temperature between 10° and 15° C) We recommend, no thermal shocks for long period! The temperature is also a very important aspect for Tasting a wine.
3 - Humidity of the rooms and odors
The ideal, would be to maintain a constant humidity level between 60% and 80%. A cellar, or an environment too dry could dry the corks facilitating the oxidation of wines and spoil the labels. Another very important care is to not keep the bottles in environments where for example they are being matured cheeses, cold cuts or where there are intense smells.
4 - How to hold bottles and types of corks
The bottles are kept in a horizontal position or with an inclination of about 5 degrees, with the label facing upwards, in order to better control the vintages without having to rotate them. The bottles held in a relaxed position, will keep cap moist and elastic, avoiding drying.
Of course, all these recommendations concern only bottles that have a natural cork. Bottles with screw caps or synthetic, generally intended for younger or less valuable wines can also be held vertically!
At Cantalici, we prefer to keep the tradition and therefore all our wines are bottled with natural corks.
5 - The quality if the wine to be preserved
The wines age better and longer if the harvest year has been of good quality, and if they have had a period of aging in wood. Usually, we refer to full-bodied red wines. For example, our Chianti Classico Baruffo Riserva is an excellent wine to keep in the cellar to celebrate special moments even after several years.
In addition to Chianti Classico, other types of Italian wine, that lend themselves to a long preservation are: Amarone, Brunello, Barolo, Sagrantino and so on… If all these precautions are followed, we can taste an excellent red wine even after 15 years.
When you are ready to drink it, put the bottle in vertical position at least one day before, and open it at least 3 hours before the cheers!
Sure, it's nice to keep a good bottle a special occasion, but then the best thing to do is to drink it!!
Cantine Cantalici Shop Online
More products you may be interested...